OUT OF PRINT – MORE COMING SOON
Dear Garden of Beadin' devotee's,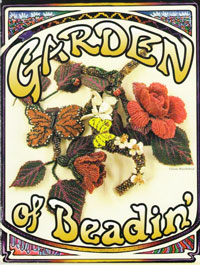 Full Color Bead Catalog – After a long road to fruition, our long awaited Bead Catalog is here! We are so excited! Thank you Angela from the bottom of my heart for the wonderful job that you did!
The catalog has an incredible array for any beader to drool over! We have added so many new items to this catalog.  There are Japanese seed beads from size 3/0 all the way to 15/'s, Czech Seed Beads from size 6/0 through 14/0's, Picassos of many sizes, Genuine Metal beads of many sizes, Hexes, three cuts, 3.4mm Dops, Magatamas, 2 sizes of Squares, Tilas, Bugles of every shape and size, Daggers of 3 varieties, Fire Polish, round and shapes, Flowers and leaves, Czech Round Beads, Pressed Rondelles, Stone beads, Metal Findings, great books and many supplies.
Full color, 92 pages, along with a separate price sheet can be mailed to you. Our catalog is now $5.00, which is refundable with your first order over $20.00 shipped domestically. Shipping  catalogs Internationally is $25.00 ( all goes to shipping) which is refundable with your first over over $75.00
It might take a little while for the web site to match the catalog. If you would like to order any items that are not yet on the web site, please either call us at1 (800) 232-3588 or (707) 923-9120 or you can email us too at through our Contact form.
I so hope that you will love the catalog and we hope to be hearing from you soon!
May the bead always be with you!
Order a catalog by pressing the appropriate catalog button below!
Best wishes,
Charlotte Silverstein