Contact the Garden of Beadin'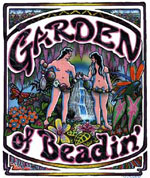 Contact Garden of Beadin' with any question you may have! Just fill in the contact form below and we will get back to you ASAP! Or give us a call at 707-923-9120 (mailorder is ext 0) or toll free… 1 (800) BEAD LUV – 1 (800) 232-3588.
For website technical questions – Contact Infinitee Web Design.
Contact Garden of Beadin' email form:
The Garden of Beadin' carries a full line of colorful Japanese and Czech seed beads, Bugle and Pony Beads along with Charlotte cuts, Fire polish, sparkling Austrian Crystals, Delicas, semi-precious stones and beautiful ethnic beads. You will also find a large array of beading needles & threads, bead and beading books, clasps, earring wires and hundreds of jewelry making supplies and accessories.
Garden of Beadin'
788 Redwood Drive
Garberville, CA 95542
707-932-9120 (mailorder is ext 0)
1-800-BEAD-LUV
(1-800-232-3588)
Text: 1-707-223-3242
Our store hours are Monday through Saturday 10:00 am to 5:30 pm
Sundays 11-4pm , May through December
You may also visit our Etsy Site: GardenofBeadinSALE.etsy.com