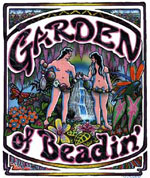 I started the Garden of Beadin' in 1985 on a whim and a prayer and with love of beads and beauty. Our humble beginnings started with a lovely store on the Avenue of the Giants, home of the giant Redwood Trees, just south of Phillipsville, in Southern Humboldt County, California. It reminded folks of a little gnome palace, nestled into the redwoods. There were no other bead stores from San Francisco to Eugene. The Grateful Dead scene was in full swing and it was a prime place to promote our business and we were located on what I call the Hippie Trail. During the busy summer festival season, you could always spot several school busses full of bead minded brothers and sisters pouring into our little shop on the Avenue.
After growing our business for several years, along with our mail order department, we decided to move into the large "Metropolis" of Garberville, where the store remains today. The Garden of Beadin' has taken on many different faces and manifestations during the last 33 years. A few things have remained the same.
We have always taken pride in helping people manifest their creativity through beautiful and colorful beads,  fantastic customer service and great quality! With a great blend of all of these facets, we have survived many roller coasters throughout our history. I am proud to have served my many faithful customers throughout the last 30 years and hope to share many, many more years to come.
Our Retail Store hours are:
Monday through Saturday 10 to 5:30 and Sundays, May through December, 11-4 pm