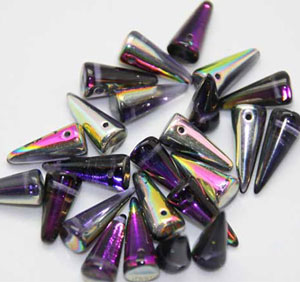 These Preciosa Czech glass Spike beads are finally here and available in 26 exciting colors!
Use you wild imagination for these funky, delectable and fun beads to work with!
Available in some wild colors to explore your inner spikey nature!
Spikes can be considered handmade. They are not pressed like round beads in an automated fashion, rather they are hand pressed, and the base bead shape has to be extracted manually from the mold. Therefore, the beads are all slightly different from each other.
7x17mm Czech Handmade Spike Beads >