Discounts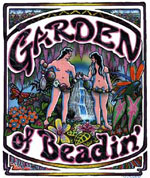 Discounts – Here at the Garden of Beadin', we offer two types of discounts. Bulk or Quantity!
Quantity Discounts
When you purchase beads from the first tiered pricing,
you receive the following discounts:
At $75 – 10% off
At $150 – 20% off
At $300 – 25% off
At $500 – 30% off
At $1,000 – 35% off
Bulk Discounts
(Per each item-Applies to MOST items)
Buy 5 – Get 1 FREE
Buy 12 or more get a 33% discount.
These pricing are already built in to the price you see on the web site.
We offer bulk discounts for each type of bead, findings and most of our supplies. For most of our seed beads and large glass, if you buy 5 you get 1 FREE. Or you can buy by the half kilo of seed beads or a 12 strand hank of large glass for a larger discount of about 30% to 50% off the normal retail price. Findings have a buy 5 get 1 FREE deal and also a larger discount when you buy by the gross or mill. (10-12 packages)
We offer quantity discounts for those who want a little here and a little there. When your order reaches $150, you get a 20% discount. At $300 you get a 25% discount and at $500 you get a 30% discount. You can use bulk discounts to help reach your total, but we can not double discount. If your order total is $300 and you have ordered a few half kilos and the rest as singles, everything but the half kilos would get a 25% discount.
There are times when a percentage discount would be a better deal for you than the buy 5 get 1 FREE discount. We will always give you the better discount.
Due to the complexity of our discount system, it's better left to us, rather than our shopping cart, to give you your discount. If you are paying by PayPal or a check and you are expecting a percentage discount, please call us before you finalize your order so we can give you a correct total. If you are paying by credit card and would like to know your final total, please call us after you have sent in your order.
Please call us at 1 (800) 232-3588